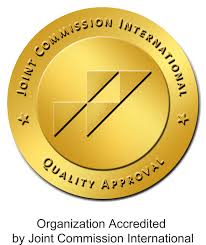 The Aga Khan Hospital is the first and only hospital in Tanzania to achieve JCI Accreditation (JCIA). The accreditation means that the Hospital has achieved a level of quality and patient service that is equal to the best hospitals in the world. In Africa, there are nine such hospitals (including the Aga Khan Hospital in Dar es Salaam and the Aga Khan University Hospital in Nairobi) that have achieved this prestigious distinction.
Within the AKDN health system there are three hospitals that are JCI accredited. These are the Aga Khan Hospitals in Karachi, Nairobi and now our hospital in Dar es Salam. These hospitals have been accredited after a rigorous evaluation of medical practices, facilities and standards relating to patient care that is safe and of high quality.
Benefits of Joint Commission Accreditation
JCIA is a tool to ensure clinical and operational processes are continuously improving to meet patient needs, using national and international best practices. It helps organize and strengthen patient safety efforts. Patient safety and quality of care are at the forefront of JCIA standards and initiatives. JCIA focusses on process improvement and thus helps organizations to strengthen community confidence in the quality and safety of care, treatment and services. For health care organizations achieving accreditation means making a strong statement to the community to make genuine efforts to provide the highest quality services. Joint Commission standards focus on state-of-the-art performance improvement strategies that help health care organizations continuously improve the safety and quality of care, which can reduce the risk of error or low quality care. Accreditation involves preparing for a survey and maintaining a high level of quality and compliance with the latest standards. Joint Commission accreditation provides guidance to an organization's quality improvement efforts.
JCIA surveyors come from a variety of health care industries and are assigned to organizations that match their background. The standards are specific to each accreditation program so each survey is specifically applicable to the relevant industry. It provides practical tools to strengthen or maintain performance excellence. The Leading Practice Library offers good practices submitted by accredited organizations. The Targeted Solutions Tool, an interactive web-based tool from the Joint Commission Center for Transforming Healthcare, allows accredited organizations to measure their organization's performance and helps them find customized solutions for challenging health care problems. It also aligns health care organizations with one of the most respected names in health care.